God is always drawing our attention off from ourselves and onto others; others who need to be served, loved, healed, and restored. The maturity of our discipleship can be seen in how we serve others; Christ being strong in us.
Mission outreach is all about partnering with God in service. At C2C Church we believe in "bridging the gap between worship and missions". As followers of Christ, our members love to worship together. But we also understand the importance of spreading the Good News of our Lord, Jesus Christ, through reaching out into our community, state, and world through missions.
The C2C Missions Team is excited to partner for another year with Oak Tree Manor for Christmas.
On December 8th there will be a Christmas Celebration. A team from C2C Church will deliver Holiday Cheer to the residents at Oak Tree Manor. Each resident will receive a pair of hard back slippers, no show socks, and be shown the love of the season.
How can you help? The C2C Missions Team is asking for donations of hard back slippers and no show socks. If you would like to participate, there are cross ornaments at the North and South entrance doors at church. Each cross has one resident's specific information on it for you to purchase. The cross will also have a number on it, and you will need to sign up that you are taking that cross. If you would rather make a monetary donation, please specify that it is for the Oak Tree Manor Christmas Celebration, and items will be purchased. Finally, if you are not physically attending church, but you would like a resident's information, please email Toni Eldred (toniaeldred@gmail.com) and she will be happy to assist you. All donations need to be in by Sunday, November 29th and placed in the Missions corner at church. Thank you for your support!
mission Outreach - 3rd qtr
The C2C Missions Team was excited to support one of our community partners, Clothes to Kids, with their annual underwear drive to reach 80,000 new pairs of underwear for kids in need.
A special thanks for those who supported with prayers, donations, Amazon orders, etc. for this amazing local nonprofit organizations that helps so many of the youth within our community.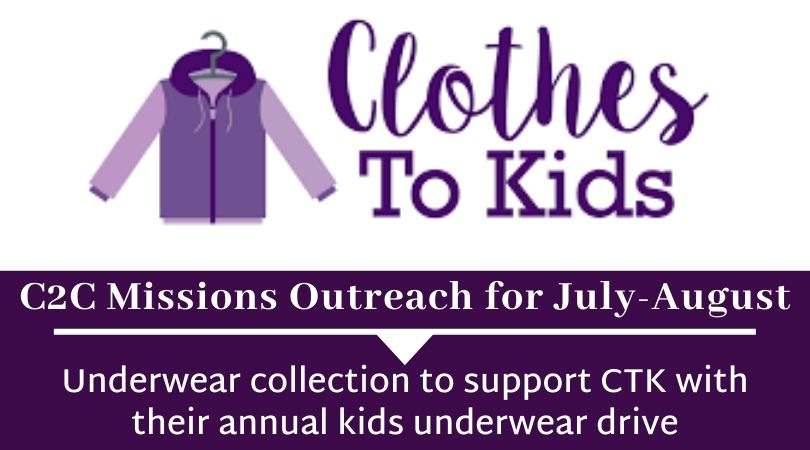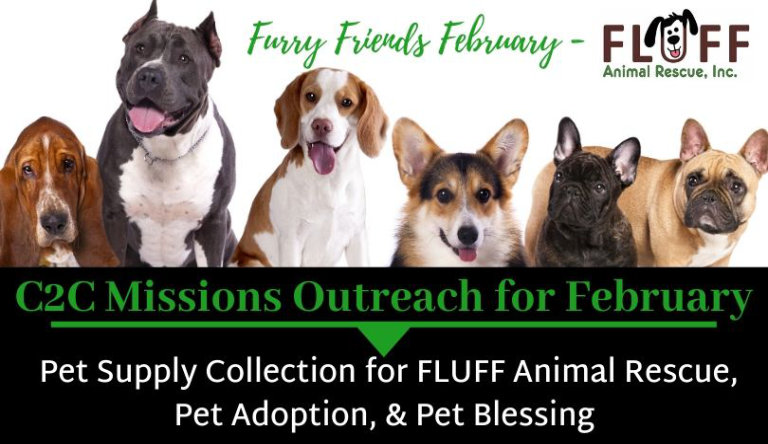 mission outreach - 02/2020
On Sunday, February 23rd, the C2C Missions Team hosted a Pet Adoption & Blessing. It was a GREAT success, as we were able to partner for another year of fun with our friends from FLUFF Animal Rescue.
The C2C Missions Team hosted a supply drive during the month of February to bless FLUFF. The drive was also a great success, and we'd like to thank everyone who donated.
There are many way to donate and/or support our friends at FLUFF Animal Rescue, please visit them at: www.fluffanimalrescue.org
mission Outreach - 01/2020
The C2C Missions Team is honored to continue to support Clothes to Kids. We began the year with a monetary donation to this amazing organization, and throughout 2020 our church will continue to be a drop off location to collect and deliver items to Clothes to Kids. So, please feel free to bring items to donate. We suggest that you view their website, listed below, for their guidelines and needs.
This organization provides new and quality used clothing to low-income or in crisis school-age children, free of charge. To learn more about them, please visit their site: www.clothestokids.org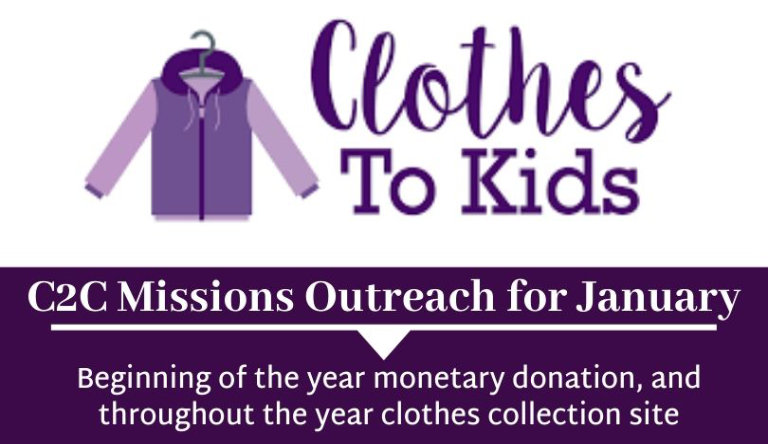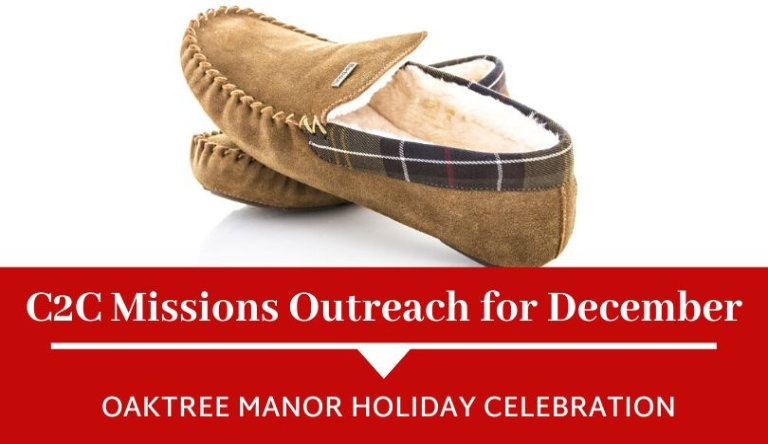 mission outreach - 12/2019
The C2C Missions Team partnered, for another year, with Oak Tree Manor for Christmas.
December 1st, we began collecting closed back slippers and socks for the residence of Oak Tree Manor.
On Wednesday, December 18th at 12:30 PM, a team went to Oak Tree Manor to celebrate Christmas with the residents. The slippers and socks were given to each resident, cookies and punch were served, and carols were sung. It was another wonderful year with our friends at Oak Tree Manor.
mission Outreach - 11/2019
The C2C Missions Team was honored in November to again partner with Fisher House at the Bay Pines VA Center by bringing Thanksgiving dinner to those temporary residents there.
Fisher House had dinner the Wednesday before Thanksgiving, and our volunteers took shifts to prepare, cook, serve, and clean up.